UK (2010)
Ian Dury is a English musician that is looking for a place in the British musical scene. But he isn't a common artist. He had a important illness when he was a child and he has problems to move 1 leg and 1 arm. He is main singer on his band: Ian Dury and the blockheads, a smart punk-rock band, mix of punk and cabaret. The beginnings were very hard: nobody understood his music and his wife is fed up of him. However Ian still with his passion and fight again his handicap with the typical rock and roll weapons: Drugs and Sex. Mainly drugs. Ian remembers his difficult youth and how felt himself when his father die. This gives him more inspiration and his music, finally, is in the top of the most important British albums. His son loves, his ex-wife loves too, but Ian has a dangerous life surrounded of vice and can't stay close to his family. It's is a personal problem but is not a problem to compose authentic Rock and Roll.
Sex & Drugs & Rock & Roll, the most famous Ian Dury song, is a biopic about this legendary musician. Unpretentious film that only wants tell us some curious details of Ian Dury life. Really the Dury music is not important for the director. It's most important the Dury person, with many physical problems and many childhood traumas. These traumas affected his personal life: problems with his wife, with his partners, with his son... They are interesting the continuous flashbacks tell them in 3rd person mixed with Dury's themes. In the bad part, it would be necessary to speak more details about the Ian's band; mainly for people like me that have never heard anything of this artist.
Mark: 7
To remember: To discover this very, very interesting man.
To forget: We want more information about Dury's work!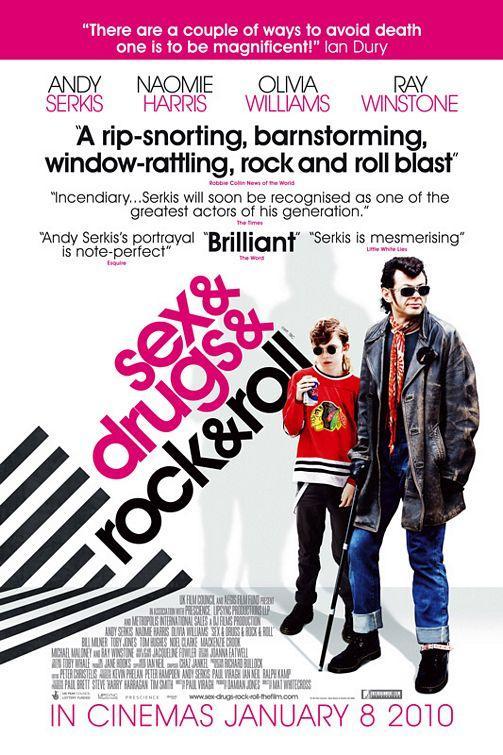 More Info
New Feature - Try now!!!!
Esta obra está bajo una
licencia de Creative Commons
.